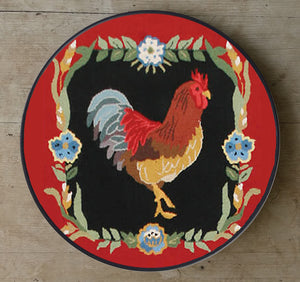 Exquisitely hand painted Large American wall plate.
Inspired by the beautiful outdoors of America and the natural beauty of its countryside, this hand painted plate lends a bit of the farm life to adorn your walls.
Size(diameter) : 10 inches .
**Customized wall plates can be made for clients who want them in specific colours according to their decor. Sizes can be chosen according to their preference and space.
For all the wall plates, organic paint has been used to colour them. These colours have a matt texture, and may bleed if they come in contact with liquid. Hence, buyers are strongly advised not to wipe plates with a wet cloth. All plates should be lightly dusted.These should not be used to serve food, they are to be hung on walls for purely decorative purpose only. All plates are wall hanging and come with an attached fixture at the back.
Although all efforts are made to create identical plates to that of the images published on the website, there could be minor shade differences, as all plates are individually hand crafted and painted when an order is placed.